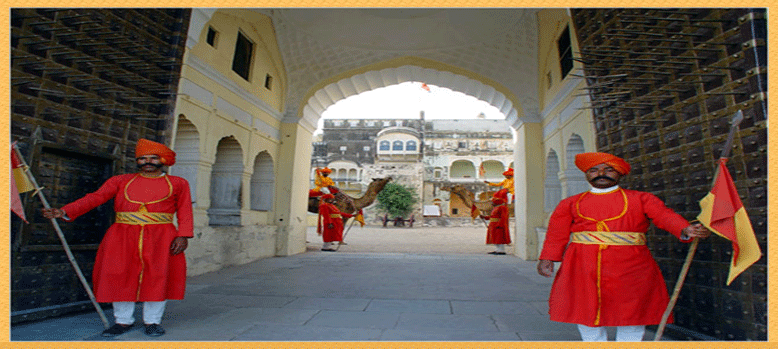 For visiting our website.
Kaustubh Holidays Tours & Travels Pvt Ltd
is a reliable and professionally managed travel company specializing in leisure and business travel planning. Founded in 2006. Kaustubh Holidays is headquartered in the state of Rajasthan, We have a network of well equipped branch offices at New Delhi, Agra, Jaipur, Udaipur, Jodhpur, Jaisalmer & Bikaner. Besides our own offices
,
we have a wide network of associate offices throughout the country manned by hand picked professionals who are adept at their task.
Kaustubh Holidays was founded by
Mr. Anil Sharma
, a veteran of the Indian Tourism Industry with an experience of 22 years. He has served on key posts with India's leading inbound tour operators and destination management companies. Under his able guidance Kaustubh Holidays has carved a distinct niche for itself in the industry during a short span of 3 years. With a team of highly dedicated professionals, a nationwide network, and state of the art technology, Kaustubh Holidays is well equipped to address all possible travel needs of both Business and Leisure Travelers.
Our travel consultants have been chosen not only for their destination expertise but for their willingness to provide friendly and highly personalized service.
Our forte is organizing Adventure & Special Interest Tours. We have developed a bouquet of special interest products viz.; Architecture, tribal tours, textile tours , Wild life tours, Gourmet, Bird Watching, Rural tourism, Golfing, Elephant Safari, Horse Safari Camel Safari, Jeep Safari, Dance Groups, Festivals of India, Tea Gardens to name a few. The list is endless!
We also have our own large fleet of transport comprising brand new A/C deluxe cars and Coaches driven by experienced and courteous, uniformed drivers. Our vehicles are fully equipped with accessories to ensure customers' comfort, safety and security. Pre-rental fitness checks, daily inspections, and servicing in keeping with the manufacturers' norms are enforced strictly to ensure excellent vehicle condition. Chauffeurs undergo specially designed training programs to offer clients a smooth and safe ride. With our policy of empowering our team, we have been encouraging senior drivers to buy their own cars. This ensures the excellent condition and regular maintenance of the vehicles and courteous service to our guests. We strongly believe that the benefits of tourism should percolate down to the smallest of service providers.
Why with Kaustubh Holidays 
We offer a live Chat facility, where you get to ask travel-related questions online that are answered by trained consultant-24 hrs a day and for 7 days a week
Our operations are supported by an extensive network of offices spread over India.
We have our own core team of drivers who are encouraged and supported to buy their own cars. Coaches too are sourced from reputed companies with faultless  safety record.
Our guests can avail the most competitive rates for hotels in the Indian sub-continent
We promise prompt replies to every query and efficient handling of all regular and special-interest tours
Our Operations team consists of highly-trained travel professionals
We have an eye for detail emphasized by a stringent code of Management System at par with International quality standards
Our strengths lie in the following


Customizations of the itinerary to the minutest details to that you get the maximum out of your travel itinerary. . Very quick responses complete in every manner
constant follow-up of your tour while it is going on
In case of something not up to your satisfaction, an immediate alternative is offered
Going out of the way to make your tour a memorable one
Quality consciousness, quantity comes next
Service with a smile, warmth and personal touch
Dissemination of correct information and news on time.
Our client's repeat business is the best testimony to the incredible value we offer.  We are never complacent  about our business. We continually strive to improve upon our services.  Attention to detail and caring about our clients' individual needs separates us from the competition. We owe our success to all our associates and guests