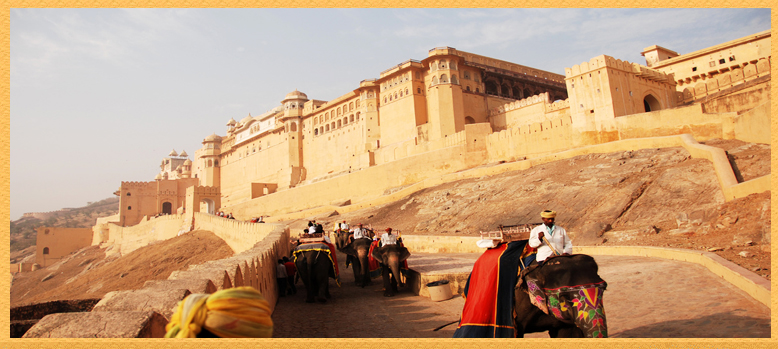 The colour pink is associated with hospitality in Raiasthan. So it is only appropriate that Jaipur, the capital of the state be washed in this shade- spreading out the 'Pink' carpet for visitors. Planned by a young Bengali architect, Vidyadhar Bhattacharya, Jaipur was built by Maharaja Sawai Jai Singh II in 1727 A.D. Laid in a grid system, with straight avenues, roads, streets, lanes criss cross the city with rows of shops on either side of main bazaars arranged in nine rectangular city sectors (Chowkris). The planning of the city followed the principles of "Shilpashastra", an epochal treatise on Hindu architecture.

Displaying remarkable harmony, the heart of the Pink City still beats in its fairy tale palaces, rugged fortresses perched on hills. The only planned city of its time, Jaipur is encircled by a formidable wall. Jaipur today is a blend of tradition and modernity.

Beautifully laid out gardens and parks intersperse the timeless appeal of its colourful bazaars where one can shop for Rajasthani hand looms and trinkets. A night spent at the marvellous heritage hotel, once the residence of Maharajas transports you to the days of royalty of yore.

Mingle with the people; let ambling camels pass you by. Make your trip to the Pink City a truly memorable one.

Places of interest:-

City Palace: In the heart of the old city is the former royal residence built in a blend of the Rajasthani and Mughal styles. The carved arches are supported by grey-white marble columns ornate with floral motifs in gold and coloured stones. Two carved elephants in marble guard the entrance.

The Palace: Houses a museum with a superb collection of Rajasthani costumes and armoury of Mughals and Rajputs including swords of different shapes and sizes with chased handles, some of them inlaid with enamel and embellished with jewels and encased in magnificent scabbards.

The Palace also has an art gallery with an excellent collection of miniature paintings, carpets, royal paraphernalia and rare astronomical work in Arabic, Persian, Latin and Sanskrit, acquired by Sawai Jai Singh II to study astronomy in detail.

Jantar Mantar: A stone observatory. The Largest of Jai Singh's five remarkable observatories. Its complex instruments, whose settings and shapes are scientifically designed, represent the high points of medieval Indian astronomy. The most striking of these are the Ram Yantras used for gauging altitudes.

Hawa Mahal: Built in 1799 A.D., the Hawa Mahal or Palace of Winds is a major Rajput landmark. This five-storey building along the main street of the old city is in pink splendour with semi octagonal and delicately honey combed sandstone windows. The monument was originally conceived with the aim of enabling ladies of the royal household to watch the everyday life and royal processions of the city.

Govind Devji Temple: The most popular spireless temple of Jaipur dedicated to Lord Krishna. It is located in the central pavilion of the Jai Niwas garden to the north of Chandra Mahal. The image of the patron deity-Govind Devji, originally installed in a temple of Vrindavan, was reinstalled here by Sawai Jai Singh II as his family deity.

Swargasuli (Isar Lat): The highest tower dominating the skyline on the western side of the Tripolia Bazaar. It was built by Sawai Ishwari Singh in 1749 A.D. to commemorate a grand victory.

Ram Niwas Bagh: A lush spacious garden with a zoo, an aviary, a greenhouse, a herbarium, a museum and popular sports ground. It was built by Sawai Ram Singh II in 1868 A.D. as a famine relief project. The Albert Hall - fine example of Indo- sarcenic style of architecture designed by Sir Swinton Jacob, was opened later with an exquisite collection of sculptures, paintings, decorative wares, natural history specimen, an Egyptian mummy and the celebrated Persian carpet.

Rabindra Manch with an auditorium, a modern art gallery and an open air theatre, has been added to promote cultural events.

Dolls Museum: Pretty dolls from various countries are on display in the compound of the school for deaf and dumb children, near the Police Memorial.

B M Birla Planetarium: The Planetarium offers unique audio-visual education and entertainment with its modern computerized projection system. For school groups concessions are available.

Galtaji: An ancient pilgrimage centre, lying beyond the gardens amidst low hills. Temples, pavilions and holy kunds (natural spring and reservoirs) along with lush landscape make it a delightful spot. The small temple of the Sun god, built by Diwan Kriparam on the top of the highest peak is visible from all parts of the city.

Choolgiri Temple: The exquisite Jain temple on the Agra Road has some of the most beautiful 19th century paintings in Jaipur style on its walls.

Moti Doongri and Lakshmi Narayan Temple: Moti Doongri is a privately owned hilltop fortress built like a Scottish castle. The Ganesh Temple at the foot of the hill and the marvellous Lakshmi Narayan Temple built in marble a few years back, are also noteworthy.

Statue Circle: The full-length exquisitely carved statue of Sawai Jai Singh in white marble in the centre of the circle was erected under the newly planned scheme area to pay homage to the founder of Jaipur.

Ghat Ki Guni: Beautifully landscaped gardens, laid out in the 18th and 19th century by kings and courtiers dot the narrow gorge in the south eastern corner of the walled city, along the road to Agra. Sisodia Rani garden has tiered multilevel gardens with fountains, water channel and painted pavilions and suites of living rooms. Amongst others, Vidyadhar-ka-Bagh is the best preserved one, with shady trees, flowing water, an open pavilion. It was built by the planner of the city, Vidyadhar.

Amber: Former capital of the Kachchhwaha rulers of the old state of Dhundhar for seven centuries. Very little of the early structures survive now.

Amber Palace and Shila Mata Temple: A beautiful complex of palaces, halls, pavilions, gardens and temples built by Raja Man Singh, Mirza Raja Jai Singh and Sawai Jai Singh over a period of about two centuries still stand in magnificent state. The palace complex emerges dramatically from the placid waters of the Maotha Lake and is approachable only through a steep path. Tourists often ride on the elephant back to the Singh Pol and the Jaleb Chowk. Two flights of stairs rise from one end of the chowk, one leading to the Shila Mata temple and other to the palace complex. The image of the patron goddess, worshipped by thousands of devotees, was brought from Jessore in East Bengal (now in Bangladesh) by Raja Man Singh, to be installed here. A spectacular pillared hall Diwan-e-Aam and a double storeyed painted gateway, Ganesh Pol dominates the front courtyard. An elegant tiny garden in Charbag style beyond the corridors, has Sukh Niwas to its right and Jas Mandir to its left. The latter combines the Mughal and the Rajput architecture, seen in its beautiful interior with intricately carved jali screens,delicate mirror, stucco work, painted and carved dadoes. The well proportioned Mohan Bari or Kesar Kyari in the centre of the Maotha Lake and the Dilaram Bagh at its north end provides a spectacular view of the palaces above.

Old City (Amber): Once a settlement of nobles, craftsmen and common folks, the city of Amber is now in ruins. The remnants of its rich past are the beautifully carved and planned Jagat Shiromani temple, a Krishna temple associated with Meerabai, an ancient temple of Narsinghii and a magnificent step-well - Panna Mian-ka-kund.

Jaigarh or victory fort : One of the few military structures of medieval India, retaining its ancient splendour in palaces, gardens, reservoirs, a granary, an armoury, a well planned cannon foundry, several temples, a tall tower and a giant mounted cannon the Jai Baan, one of the largest in the country are preserved here. The extensive parkotas (walls), watch- tower and gateways of Jaigarh dominate the western skyline.

Nahargarh or Tiger Fort: A sentinel to the Pink City is Nahargarh Fort, situated beyond the hills of Jaigarh. Although much of it is in ruins, the lovely building added by Sawai Ram Singh II and Sawai Madho Singh II provides interest to the fort.

OTHERS: Beautiful memorials to the queens, Maharani-ki-Chhatri are near the Ramgarh Road crossing on the Amber Road. The Island Palace, Jal Mahal built by Sawai Jai Singh I, is a fascinating spot at the centre of the Man Sagar Lake.

The Kanak Vrindavan complex of fine temples and gardens has been recently renovated to their pristine perfection. To the west of this road is the royal crematorium at Gaitore which is a narrow valley with some spectacular cenotaphs of all the Jaipur rulers except Sawai Ishwari Singh who was cremated outside the Jai Niwas Garden. Most imposing is the 'chhatri' of Sawai Jai Singh II with intricate carvings and a graceful shape.

EXCURSIONS

Sanganer: (12 kms): Located on the Tonk road. In addition to its ruined palace, Sanganer has exquisitely carved Jain temples. The town is entered through the ruins of two tripolias (Triple gateways) The town is an important centre for crafts industry and produces some of the finest hand printed textiles from units of block and screen printers. This textile is popular all over the country and abroad.

Bagru (35 kms): On the Ajmer Road, the ground level fort is still in good shape. It is noted for its hand printed hand loom industry using simple techniques. The designs of these hand looms are less complicated and are in earthy hues.

Ramgarh Lake (32 km north east): A huge artificial lake created by constructing a high dam amidst tree covered hills. While the temple of Jamwa Mata and the ruins of the old fort are some of its antiquities, its beautiful landscape, especially during monsoons, makes it an idyllic picnic spot.

Samode (40 km North West): The beautiful Samode Palace, has been rebuilt and renovated and provides a fine example of the Rajput haveli architecture and is an ideal spot for outings.

Bairath (86 km on the Shahpura - Alwar Road): An important historical place with the excavated remains of a circular Buddhist temple unique in Rajasthan and the earliest known temple in India. Bairath also has relics of the Mauryan, Mughal and Rajput periods.

A mint constructed by Akbar, a beautiful Mughal garden and a remarkable monument with painted chhatris and walls built by Jahangir are other attractions. Abhaneri (80 km north east off the Agra Road near Bandikui): A famous 7th - 8th century A.D. temple of Harshad Mata and the step-well known as Chand Baodi are of interest. Two Jain temples are also present, which were built at a later period.

Sambhar (94 kms west): The largest inland salt lake of India known for the holy Devyani Tank, the palace and the Naliasar nearby.

Jaisinghpura Khor (12 km off the Amber Road): One of the settlements of the Meena tribe, it has a formidable fort,a Jain temple and a step well amid lush surroundings.

Madhogarh-Tunga (40 km on the Bassi-Lalsot - Agra Road): Tunga was witness to a historic battle fought between the Jaipur forces and the Marathas. The fort is nestled amidst beautiful mango orchards.

Shopping: Jaipur offers one-of-a-kind shopping experience with its rich treasure of bewitching jewellery, beautiful gems, semi- precious stones, Kundan and Minakari work (enamel work on gold). Beautiful cotton fabrics including Sanganeri prints, tie-and-dye and fine 'Kota doria' saris are the best buys for women. The exotic blue pottery, enamelware and brassware make excellent souvenirs and gift items. The city is also famous for woollen carpets and cotton rugs.

Equally popular are the leather footwear, especially the embroidered 'Jutis'.The famous shopping spots are Rajasthali (Govt. Handicrafts shop on MI Road),Johari Bazaar, MI Road, Nehru Bazaar, Bapu Bazaar, Chhoti & Badi Chaupar Stalls. The markets generally remain closed on Sundays.

TRAVEL INFORMATION

HOW TO REACH JAIPUR

Air: There are flight connections to Jodhpur, Udaipur, Delhi ,Mumbai, Ahmedabad, Kolkata, and Dubai.

Rail: An excellent connection from Delhi is Shatabdi Express which provides a fast, air-conditioned rail service. Other connections to Jaipur are from Bikaner, Jodhpur, Udaipur, Ahmedabad, Secunderabad, Agra, Lucknow, Mumbai and Kolkata. Some important train

connections are: Marudhar Express (Varanasi-Jaipur-Jodhpur); 9770 Express (Jaipur-Purva); Gujarat Mail (Mumbai- Jaipur-Delhi Sarai Rohilla); Shatabdi Express (New Delhi-Jaipur-Ajmer); Superfast Express (Delhi Sarai Rohilla- Jaipur); Ahmedabad Mail (Delhi Sarai,Rohilla) Mandore Express (Delhi Sarai Rohilla-Jaipur-Jodhpur); Intercity Express (Jaipur-Delhi Sarai Rohilla); Ahmedabad Mail (Delhi Sarai Rohilla-Jaipur-Ahmedabad); Jodhpur Mail (Marwar-Jaipur-Delhi Sarai Rohilla).

Road: A convenient mode of travel to Jaipur is by road, through a network of comfortable tourist buses. Rajasthan Roadways runs excellent regular service of AC and Deluxe coaches from Delhi (From Bikaner House, Pandara Road and ISBT, Kashmiri Gate) Some Road distances are Delhi-259 kms, Udaipur-405 kms, Jodhpur-336 kms and Ahmedabad-657 kms.

Local Transport: Un-metered auto rickshaws, buses, cycle-rickshaws. The Rajasthan State Roadways Transport Corporation and private owners operate regular bus service to Amber Palace and around the city.

GENERAL INFORMATION

Area: Jaipur City (Municipal limits 64.75 sq. km,
Pink City 9.8 sq. km)
Altitude: 431 metres
Climate: Mean Max. Mean Min.
Summer: 45. 0°C 25.8°C
Winter: 22.0°C 8.3°C
Rainfall: 64 cms.
Best Season: September - March
Clothing: Summer: Light Tropical
Winter : Light Woollen
Languages: Rajasthani, Hindi, English.