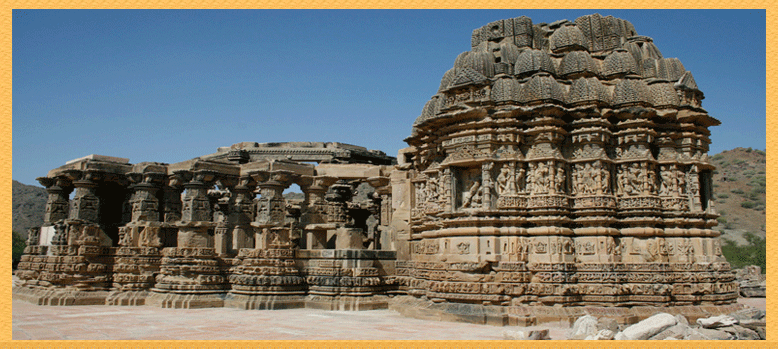 It seems all the colour, warmth, tradition and happiness have been ensconced into this little place called Barmer.
According to history, the 13th century founder of the district, Bahada Rao (popularly known as Bar Rao) gave the town its name, Barmer-the hill fort of Bar.
Way back in the 12th Century A.D., it was known as Mallani, made of a cluster of Parganas -- Mallani Shiv, Pachpadra, Siwana and the Chohtan area. The present Barmer district was formed in 1949 upon the merger of Jodhpur state in the United States of Great Rajasthan. So much for history.
Barmer is 'Rajasthan to the core' - Barren land, harsh climate, rough terrain on the one hand, rich crafts, dances and music on the other.
Once on the ancient camel trade route, the town is now the center for wood carving, pottery, carpets, intricate embroidery work, block printed fabrics and multi-hued traditional costumes. What stands out are the geometric Ajrak prints in dark shades of red and blue, ideal for protection from the scorching sun.
The trip to Barmer is a journey through rural Rajasthan. As the visitors enter the interiors, they discover small villages with mud-walled houses decorated with delicate folk motifs and colourfully attired people on the way to work - a fascinating sight indeed!
Come March, the desert town bursts into colour during the Barmer festival. A good time to visit this quaint little Rajasthan in miniature.
Places of interest:-
Barmer:
Perched on a rocky hill, the town has ruins of an old fort. Of interest are a temple dedicated to Balark (the Sun) and the ancient ruins of Juna Barmer.
Kiradu :
Situated on the foot of a hill near village Hathma in Barmer tehsil is Kiradu.
The inscription dating back to 1161 A.D.reveals that the place was called Kiratkoop and had once been the capital of Panwars. The ruins of five ancient temples - one dedicated to Lord Vishnu and other four dedicated to Lord Shiva - are of interest to archaeologists and art lovers, alike. The biggest of these temples is the Someshwar Temple.
Khed :
Rao Siha, the founder of the Rathore clan along with his son ( Asthanji) conquered Khed from the Guhil Rajputs and planted the standard of the Rathores.
An old Vishnu temple of Ranchhorji is surrounded by a crumbling wall and an image of Garuda (the eagle) at the gate guards the complex. Other temples nearby include temples of Brahma, Bhairav, Mahadev and a Jain temple.
Jasol :
Once a principal state of Mallani, this ancient village has got its name from the descendants of a Rathore shun-Glan. A Jain temple and a Hindu temple are worth visiting. The Hindu temple is ornamented with fine sculptures, which were brought from a Jain temple of Lord Mahaveer.
Meva Nagar:
Once called Viranipur,this 12th century village lies on the slope of a hill called Nagar-ki-Bhakarian, 9 kms. away from Balotra. The village has three Jain temples. The biggest of these is the one dedicated to Nakoda Parsvanath. A Vishnu temple is also worth visiting.
GARDENS AND PARKS
Mahaveer Park:
Mahaveer Park is a beautifully laid out park with a tiny museum housing ancient to carved statues.
Safed Akhara :
(Sidheswara Mahadev Temple Complex) is a tiny yet pretty garden near Barmer.
Neemari:
Neemari is another picturesque garden on Chohtan route, 23 kms. away from Barmer. An old swimming pool is an attraction.
Shopping:
A veritable shopper's paradise, Barmer is treasure trove of vibrantly coloured embroidery with excellent mirror work. Also famous are beautifully embroidered fabrics and pouches often patterned with tiny mirrors. Traditional rugs, blankets, shawls, carpets, Pattus & Dari in typical Barmer colours and weave are a specialty of the district. The shopping spots include the tiny shops along the narrow lanes of the colourful and lively Sadar Bazar.
TRAVEL INFORMATION
HOW TO REACH BARMER
Air:
Nearest airport, Jodhpur.
Rail:
Connected with Jodhpur. Some important train connections are: 4059 A Jodhpur- Barmer Express 4060 A Barmer-Jodhpur Exp ; 4887 Kalka Barmer Express (Jodhpur- Barmer) 4888 Barmer Kalka Exp ( Barmer- Jodhpur).
Road:
State Roadways, Rajasthan State Road Transport Corporation connects Barmer with all major cities in the state. The Bus Stand is situated near Railway Station and Tilak Bus Stand connects Barmer with Jodhpur, Balotara, Jalore (Via-Siwana) Jaisalmer, Ahmedabad (Via-Sanchore), Abu, Udaipur and other places.
GENERAL INFORMATION
Area: 15 Sq. km.
Climate: Mean Max. Mean Min.
Summer: 43°C 27°C
Winter: 26°C 10 °C
Rainfall: 28 cms.
Best Season: August to March
Clothing: Summer- Light Tropical
Winter- Woollen
Languages: Rajasthani, Hindi, English