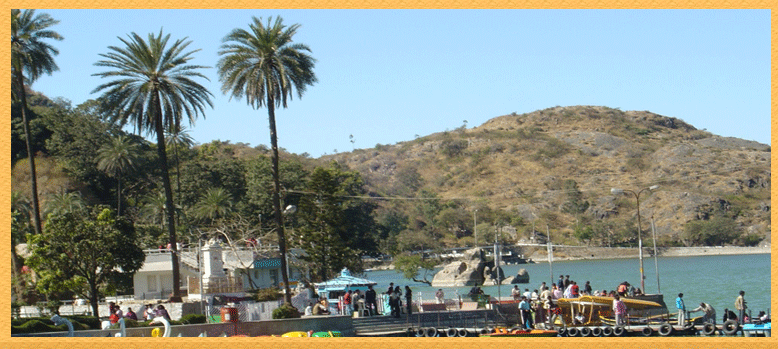 The drive up to Mt. Abu is, via a road that winds through regions dotted with huge rocks in weird shapes and high velocity winds. Very unusual, indeed.
The only hill station in Rajasthan, Mt. Abu is nestled in the pleasant surroundings of lush forested hills of coniferous trees and flowering shrubs - a green oasis in the desertscape. Apart from a number of exquisite Delwara Jain temples dating back to 11 th -13th centuries that make it a popular pilgrimage center, Mt. Abu presents quite a few legends regarding its genesis. According to one, 'Abu' stands for the son of Himalaya, derived from Arbuada, the powerful serpent who rescued Nandi, the sacred bull of Lord Shiva, from a chasm.
Mt. Abu has been home to many sages and saints. The most famous of them was Sage Vashishtha, who is believed to have created four Agnikula Raiput clans from a fire pit by performing a 'Yajna' or fire sacrifice, to protect the Earth from demons. The 'Yajna' was performed besides a natural spring below Mount Abu. The spring emerges from a rock shaped like a cow's head, hence known as Gaumukh.
Places of interest:-
Gaumukh Temple:
A natural spring flowing through a sculpted cow's head gives the shrine its name. The famous 'Yajna' of Sage Vashishtha was performed here. A beautifully sculpted hill temple of Arbuada - the mighty serpent, stands against the beautiful backdrop. Nearby is the magnificent marble image of Nandi, the celestial bull rescued by Arbuada.
Nakki Lake:
A tiny lake picturesquely set amid hills. The lake is dotted with several islets approachable by a boat. Of particular interest are strange rock formations around the lake. Especially notable is the Toad Rock which looks like a real toad about to jump into the lake. Others are Nun Rock and Parrot Rock etc. Set in the heart of the town, the lake gets its name from the legend that it was scooped out by the gods with their finger nails or 'Nakh'. It is the only artificial lake in India that is 1200 mts. above sea level.
Delwara Jain Temples:
These beautifully carved temples built between 11th  and 13th century A.D. are sheer elegance in marble, dedicated to the Jain Tirthankaras.
The Vimal Vasahi temple is the oldest of these dedicated to the first Tirthankara. Built in 1031 A.D. by Vimal Shah-a merchant and representative of the then Gujarat ruler, it is a superb example of temple architecture.
The central shrine has an image of Rishabhdev and large courtyard with 52 small shrines, each housing a beautiful statue of Thirthankaras with 48 elegantly carved pillars forming the entrance to the courtyard.
The Lun Vasahi Temple, dedicated to the 22nd Tirthankara - Neminath, was built in 1231 A.D. by two brothers- Vastupal and Tejpal, Ministers of Raja Vir Dhawal, a ruler of Gujarat-belonging to the Porwal Jain community.
With door casings, pillars, architraves, and sculptures on porticos, the temple is a fine specimen of craftsmanship.
Adhar Devi Temple:
The temple is chiselled out of a huge rock reached by a flight of 360 stairs. a favorite tourist spot of goddess Durga.
Sunset Point:
Spectacular sight of the setting sun when the hills are covered in the golden glow can be viewed from here.
Honeymoon Point:
Also known as Anadra Point, it offers an enchanting view of the verdant plains and valleys. The place looks most beautiful during the dusk hours.
Shri Raghunathji Temple:
Situated near the 'Nakki Lake' is the temple dedicated to Shri Raghunathji with a beautiful image of the deity that was placed here in 14th century A.D. by, Sri Ramanand - the famous Hindu preacher.
Gardens and Parks:
Beautifully laid parks and gardens are interspersed throughout the hilly paradise. Crocodile Park, Gandhi Park, Municipal Park  Shaitan Singh Park are some of the Note worthy gardens. BK's Peace Park is the most beautiful garden in the town.
Govt. Museum:
Located at the Raj Bhawan, it has a collection of archaeological excavations dating back to 8th-12th century A.D. It also has Jain bronze carvings, brassworks etc., for viewing.
Trevor's Tank (5 kms):
Named after the British engineer Trevor who constructed it, Trevor's Tank is a delight for birdwatchers with densely wooded hills that are a heaven to sloth bear and panther's
Achalgarh (11 kms):
An impressive fort with some beautiful Jain temples enclosed within. Among the noteworthy temples are Achaleshwar Mahadev Temple (1412 A.D.) and Kantinath Jain Temple (1513 A.D.) The latter has a gold plated image. Mandakini Kund and a sculpture of   
Parmar Dharavarsh are situated close to the Achaleshwar Mahadev Temple.
The fort was built in the 14th century A.D. by Rana Kumbha and is approached by a motorable road.
Guru Shikhar (18 kms):
The highest peak of Aravali ranges (1772 mts above the sea level) allows a bird's eyeview of the sylvan surroundings of Mt. Abu. A temple of Dattatreya standing on the shikhar is worth to visit.
TRAVEL INFORMATION
HOW TO REACH MOUNT ABU
Air:
Udaipur (185 kms) & Ahmedabad (235 kms) are nearest airport. Taxis and buses available to reach Mount Abu.
Rail:
Abu Road 29 kms is the closest railhead. Taxis, jeeps and buses can be hired for onward journey to Mount Abu. Some important train connections are: Aravali Express (Jaipur-Abu Road - Marwar); Ahmedabad Mail (Delhi-Jaipur-Abu Road); Ahmedabad Surya Nagri Express (Jodhpur-Abu Road- Ahmedabad-Bandra); Ranakpur Express (Bikaner-Abu Road - Bandra) Ashram Express (Delhi-Abu road-Ahmedabad-Delhi).
Road:
Good network of bus services. Key connections are: Ahmedabad 235 kms. Jodhpur 264 kms. Via Sirohi, Sanderao and Udaipur 185 kms.Via Pindwara.
Local Transport:
Un-metered Jeeps, Baba Gari etc.
GENERAL INFORMATION
Area: 25 sq. km.
Altitude: 1220 metres
Climate: Mean Max. Mean Min.
Summer: 33.8°C       23.3°C
Winter:    28.3°C       11.6 °C
Rainfall: 65-177 cms.
Best Season: February - June
Clothing: Summer: Light Tropical
Winter: Heavy Woollens
Languages: Hindi, English & Gujarati.