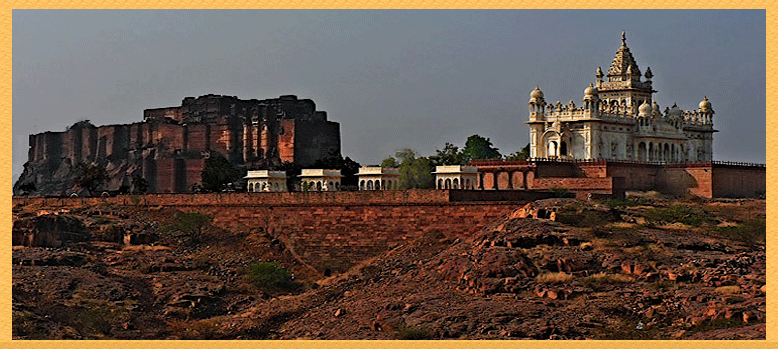 To listen to the tales of antiquity in the emptiness of the desert, come to Jodhpur. Founded in 1459 A.D., the city was founded by Rao Jodha, chief of the Rathore clan. He claimed to be a descendant of Lord Rama- the hero of the epic Ramayana.

Soaring 125 mt. above the plains, the Mehrangarh Fort looms on top of a rocky hill, surrounded by a high wall - 10 km long with 8 gates and innumerable bastions.

History aside, there's another side to the city. The 16th century, fortress-city of Jodhpur was a major trade center in by-gone years. It today stands as the second largest city in the state of Rajasthan. .

Wind through the jumble of streets of Jodhpur. Smile at the unusually fascinating folks wearing multihued costumes. Admire the women in gathered skirts and hip-length jackets with three-quarter sleeves covering the front and the back. Try on the colourful turbans worn by the men folk. It was here that the popularly worn baggy-tight, horse riding trousers 'Jodhpuris took their name.

Shop around in the Jodhpur bazaars for a rich collection of exquisite handicrafts. Tie-and-dye fabric, embroidered 'jutis or slippers in suede, camel skin, velvet or leather. Add beautiful silks, durries, and marble souvenirs to your shopping bag.

Come, let your hair down in Jodhpur, especially during the Marwar Festival held every year.

Places of interest:-

Mehrangarh Fort: The 5 kms long majestic fort on 125 m high hill is one of the most impressive and formidable structures. Although invincible from the outside, the fort has four gates approached by a winding road. Within the fort are some magnificent palaces with marvellously carved panels, latticed windows and evocative names.

Noteworthy of these are the Moti Mahal, the Phool Mahal, the Sheesh Mahal, the Sileh Khana and the Daulat Khana. These palaces house a fabulous collection of trappings of Indian royalty including a superb collection of palanquins, elephant howdahs, and miniature paintings of various schools, musical instruments, costumes and furniture.

Jaswant Thada: A royal cenotaph in white marble built in 1899 A.D. in memory of Maharaja Jaswant Singh II. Within the main cenotaph are the portraits of various Jodhpur rulers.

Umaid Bhawan Palace: The only 20th century palace built under the famine relief project that gave employment to famine struck population. The palace was completed in 16 years. This opulent edifice in sandstone is still the residence of the former rulers with a part of it running as a hotel and remaining part as a museum.

Girdikot and Sardar Market: These colourful markets with tiny shops dotting the narrow lanes are situated in the heart of the city and are popular for a wide range of handicrafts, making them the favourite haunt of shoppers.

Government Museum: The museum has an exquisite ensemble of paintings, sculptures and antique weapons.

EXCURSIONS

Balsamand Lake and Gardens (5 kms): A pretty lake built in 1159 A.D. A splendid Summer Palace stands by the lake side surrounded by beautiful gardens. An idyllic spot for excursions.

Mandore Gardens (9 kms): The ancient capital of Marwar has cenotaphs of the Jodhpur rulers. The Hall of Heroes has fifteen figures carved out of the rock on the wall which represent Hindu deities. Its beautiful gardens with high rock terraces make it a popular picnic spot.

Mahamandir Temple (4 kms): Built in 1812 A.D., it is a noteworthy temple with 84 carved pillars, the temple is an architectural splendour.

Kailana Lake (11 kms): The beautiful lake is an ideal picnic spot. Boating facility is available.

Osian (60 kms): An oasis in the desert, situated on the diversion off the main Jodhpur-Bikaner Highway. A drive to this ancient township takes one past undulating terrain, punctuated by desert stretches and little hamlets. Osian has 16 beautifully sculptured Jain and Brahminical temples.

Of these the most outstanding ones are the earlier Surya or Sun temple and the later Kali temple, Sachiya Mata temple and the main Jain temple dedicated to Lord Mahavira.

Dhawa (45 kms): A wildlife sanctuary with the largest number of Indian antelopes.

Nagaur (135 kms): An imposing fort with beautiful murals. It is also the venue for a week-long cattle fair held in Jan. /Feb. every year.

Rohet Garh (40 kms): Now a heritage hotel, the fort is worth a visit.

Luni Fort (30 kms): Now converted into a heritage hotel, this fort and its surroundings are worth a visit.

Shopping: A treasure trove for shoppers, Jodhpur bazaars are teeming with an array of handicrafts. One can shop for white metal curios, silverware, quilts, tie and dye fabrics, leather goods, wooden toys, paintings, embroidered shoes, Jodhpur breeches or Jodhpuris range of souvenirs. The best shopping spots are Sojati Gate,Nai Sarak, Clock Tower, Tripolia Bazaar, Mochi-ki-Gali and Lakhara Bazaars. Rajasthan Khadi Sangh is the best spot to buy hand looms.

TRAVEL INFORMATION

HOW TO REACH JODHPUR

Air: Indian Airlines flights from Delhi, Mumbai, Udaipur and Jaipur. Jetairways also operate a daily flight between Delhi & Jodhpur.

Rail: Direct rail connection with many important cities of the country. Some important train connections are: Marudhar Express (Varanasi-Jodhpur); Barmer Express (Jodhpur-Barmer) Ranakpur Express (Jodhpur-Ahmedabad); Intercity Express (New Delhi-Jodhpur-Jaisalmer). Surya Nagri Express (Jodhpur-Ahmedabad) Hawrah Express (Jodhpur- Hawrah ), Intercity Express (Jodhpur-Jaisalmer-Sawai Madhopur), Jaisalmer Express (Jodhpur-Jaisalmer) Bikaner-Barmer via Jodhpur.

Road: Jodhpur can also be reached through a dense network of road connections. Some key distances are: Delhi 597 km, Udaipur 260 kms, Jaipur 336 kms.

Local Transport: Metered taxis, auto rickshaws & cycles are also available on hire.

GENERAL INFORMATION

Area: 29 sq. km.
Altitude: 236.53 metres
Climate: Mean Max. Mean Min.
Summer: 42.2 °C 36.6°C
Winter: 27.5 °C 15.5°C
Rainfall: 31.87 cms.
Best Season: October - March
Clothing: Summer: Light Tropical
Winter: Light Woollen
Languages: Hindi, English & Marwari.