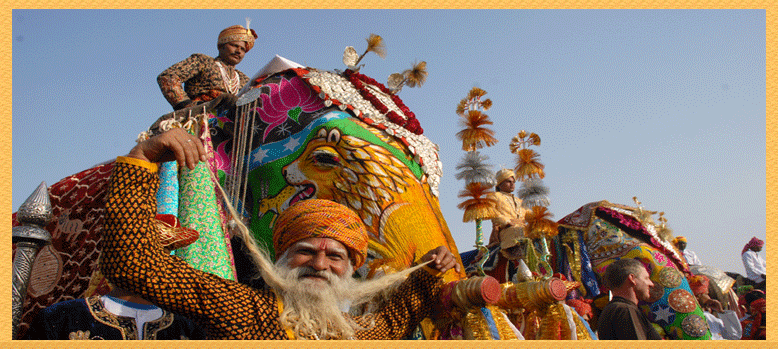 Elephant Festival :-The Elephant Festival is an inimitable event held annually in Jaipur.
Groomed
flawlessly, rows of elephants do a catwalk before an enthralled audience liked the best fashion models to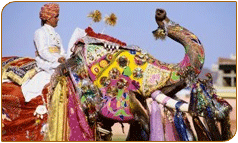 make this festival an amazing one. The elephants move with poise in the pageant and finally participate in the spring festival of Holi. It is festival time with elephants, typically celebrated one day before Holi, the Indian festival of colors.
Staged at Chaugan Stadium, Jaipur, elephants put up a variety of programs and the arena is brought alive with musicians and dancers. The crowd, which includes sizable presences of foreign and Indian tourist, electrifies the atmosphere. The festival starts with an impressive procession of the majestic animals lovingly painted and tastefully attired with glittering ornaments and embroidered velvets.
A ceremonial procession is recreated with caparisoned elephants, lancers on horses, chariots, camels, cannons and palanquins. All of the participants are female elephants. The mahouts (elephant keepers) take great care to decorate the elephants painting their trunks, foreheads, and feet with floral motifs and adorning them from tusk to tail with interesting trinkets. Elephants wear anklets and make music as they walk.
Finally, some lucky tourists are invited to mount the elephants and play Holi. Participants dance with great vigour and the excitement rises to a crescendo