Teej festival, the celebration of the monsoons (July-August), is celebrated all over the State with each region having its own unique touch.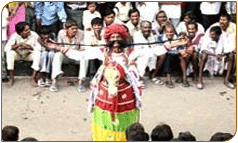 Kajli Teej of Bundi is different in several ways - while Teej is celebrated on the third day of the month of Shravana, in Bundi it is celebrated on the third day of the month of Bhadra. The festival starts with the procession of goddess Teej in a decorated palanquin from the beautiful Naval Sagar. It passes through the main bazaars and terminates at Azad Park. The procession has decorated elephants, camels, bands,performing artistes and colourfully dressed people.
This is the time to renew the ties of fidelity for married couples in Rajasthan, and special sweetmeats, and swing rides are characteristic of it. The people who gather here from surrounding areas also get to watch and participate in the cultural programs that are organized in the evenings. It provides an opportunity to see performances by local artistes from Hadoti region.
Though the main function of Teej is held only on two days, the celebrations continue up to Janmashtami, which marks the birth of Lord Krishna.