The Marwar Festival is held every year in memory of the heroes of Rajasthan.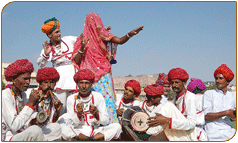 The festival is held in the month of Ashwin (September-October) in Jodhpur, for two days during the full moon of Sharad Poornima.
Originally known as the Maand Festival, this festival features folk music centered on the romantic lifestyle of Rajasthan's rulers. This festival is devoted to the music and dance of the Marwar region and offers a good opportunity to see the folk dancers carrying pots on their heads and singers who assemble here and provide hours of lively entertainment. These folk artistes provide a glimpse of the days of yore, of battles and valiant heroes who still live on in their songs.
Other attractions at the festival are the camel tattoo show and polo. The impressive Umaid Bhawan Palace, Mandore and Mehrangarh fort, which are symbols of might and valour, provide the ideal venue for the cultural extravaganza – an integral part of the festival.